01 Nov

Pardon the Interruption

What is Business Income Insurance?

Business Income Insurance is coverage that protects organizations from a reduction in income when operations are interrupted by damage to property caused by a covered peril.  It is considered a "time element" coverage and is also referred to as "Business Interruption" or "Loss of Rents" coverage.

How are losses measured?

Business income losses are measured in terms of net income.  Revenues – Expenses = Net Income. The loss is determined by subtracting the amount of net income a firm actually earned in the period of interruption from the amount of net income that the firm could reasonably have expected to earn during the same period.

Example – Joe's Hardware:

Joe's hardware suffered a fire loss and was closed for five months.  During the five-month interruption revenue was reduced to zero. Ordinary expenses (payroll, electricity, etc…) were temporarily reduced or eliminated.

Joe's Hardware                   Expected                              Actual During Period of Restoration

Revenue                               $400,000                             $0

Expenses                             $300,000                             $85,000

Net Income                        $100,000                             ($85,000)

Joe's business income loss is $100,000 – ($85,000) = $185,000

What is the Monthly Limit of Indemnity Option?

This option is used for most small businesses to suspend the coinsurance condition.

From ISO CP 00 30 10 12 BUSINESS INCOME (and EXTRA EXPENSE) COVERAGE FORM
Monthly Limit Of Indemnity

The Additional Condition, Coinsurance, does not apply to this Coverage Form at the described premises to which this Optional Coverage applies.
The most we will pay for loss of Business Income in each period of 30 consecutive days after the beginning of the "period of restoration" is:

The Limit of Insurance, multiplied by

The fraction shown in the Declarations for this Optional Coverage.
With this option the insurer will limit the amount payable for each period of thirty consecutive days for which a business income loss is sustained.  It is typically expressed as 1/3, 1/4 or 1/6. The selected fraction will be multiplied by the selected limit of insurance. The result is the most the insurer will pay in a 30 day period.  Contrary to popular belief it does not limit the time period of coverage only how much is paid in each 30 day period.
Here is another example for Joe's hardware showing what would have occurred had he selected Business Income limits of $150,000 with a 1/3 Monthly Limit of Indemnity option:
The most his policy will pay is $50,000 in any one 30 day period.  $150,000 (Limit of Insurance ) X 1/3 (Monthly Limit of Indemnity) = $50,000. In this example it takes Joe five months to restore his operation after the fire.
Month                  Bus. Income Loss           Bus. Income Paid
1                              $60,000                                $50,000 ($60,000 is greater than the Monthly Limit of $50,000)
2                              $30,000                                $30,000
3                              $40,000                                $40,000
4                              $25,000                                $25,000
5                              $35,000                                $ 5,000 (Limit of Insurance is $150,000 so only $5,000 is paid)
Total                     $185,000                             $150,000 (Limit of Insurance.)
What is Business Income with Extra Expense?
The Business Income (and Extra Expense) Coverage form CP 00 30 provides coverage for business income losses as well as the extra expenses incurred to reduce business income loss.  An example would be the expense associated with renting another location or temporary equipment to continue operations. It should be listed on the ACORD 140 as "BI w/EE" .  It is recommended that insureds select Business Income with Extra Expense over Business Income without Extra Expense CP 00 32.
What is the best way to show the monthly limit on an ACORD 140?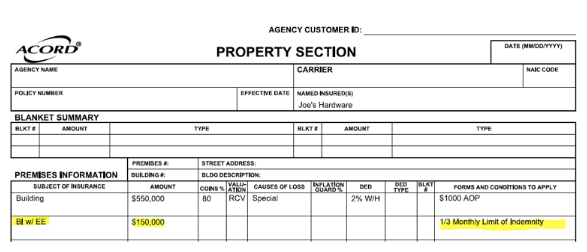 Lane & Associates can protect your clients with Business Income Insurance and Business Income Insurance with Extra Expense coverage. Contact us today to let our knowledgeable staff help get you started.